Small: 6.5" Long Medium: 7" Long Large: 7.5" Long For any custom sizes, please contact us on hello@equiivalence.com
Crafted from brass and plated in 18 kt gold or rhodium for silver tone.
Figaro Bracelet x 1; Charms only for styling reference.
We follow a slow business practice, which means that every piece is made after receiving an order. It takes up to 10 to 15 working days (6 days of the week) for us to ship your order.
We do not offer Cancellations, Returns, or Refunds once the order is placed. We advise you to be 100% sure of your purchase before you checkout. For any further information, contact us at hello@equiivalence.com.
Please expect minor differences in the color, texture, and finishing of every product as compared to the product images due to studio lights. There will also be differences in the shape, texture, and color of the natural materials used like pearls, beads, etc.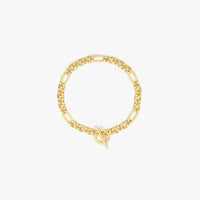 Figaro Bracelet
- Gold / Small
Rs. 1,299.03